Latest news 2012
111125
Robert Forsgren the vinner of this years Craftmanship prize!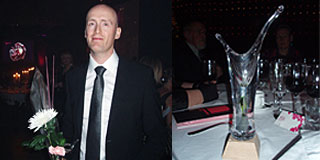 Every year Umea Craftmanship Association give a
scolarship to a company or a person that take the
craftmanship further.

Jurys motivation:
New times and new techniques create new craftmanships
and this prizewinner is a brilliant example of that.
Through his skill in this "new" business he got customers
from all over the world that engage him.
He has put Umea on the map.
110828
Boije Ovebrink, World record holder and driver of the world's fastest hybrid truck "MEAN GREEN" have order a helmet from Robert. See the result under helmet!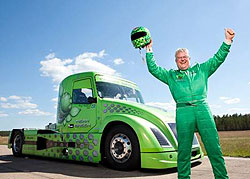 110116
Sune Andersson Team Stuntperformance helmet!
101205
See Christer Kopkas "ACDC Truck" under truck!
100302
See Kranbilen.nu and there "Monster Truck" under truck!
091121
Robert Forsgren was interviewed by Mikael Liljeholm from TV4.
See the interview here!


091001
See Brian Nielsens "PEARL HARBOR" under truck!
090903
1:st prize "best paint!"
At Uphill racings big final HOTPAINTARTs firm car, a Ford F-150 customized and painted by Robert Forsgren won the 1:st prize for "best paint". See the car under motor!
090820
Opening for HOTPAINTART WEBSHOP!
Finally we can welcome you to our webshop where you can find averything from Hotpaintart stuff to airbrush equipment from IWATA. We selebrate the opening with an Opening offer: Everyone that shop for 500 SEK or more will get a numbered and signed Indian poster (value 250 SEK) Without any extra cost! The offer is valid to the end of September.

090725
"Lord Of The Rings" motorcycle under mc!
090228
New Moonshine Express truck to view under truck!
081106
New mask!
080929
Take a look at Kristian Jakobsens truck "metal Shaper" under: truck!
080606
2 new Hogtech motorcycles under mc!
080514
New mc!
071125
See a Lotus painted by Robert under motor!
071028
Every second year Scania arrange the competition "Scania Young European Truck Driver"
This year more than 16000 truckers from 27 european countries prticipated.
We can proudly announce that Scania on there webpage offered the possibility to viritual paint a truck with motives made by Robert Forsgren HOTPAINTART.
Try to paint your own Scania and create a cool wallpaper here: Paint a truck!
More uppdates are coming up during november, don´t miss it!

060524
One Valmet 941 and one Valmet 911 to Dalfors Skogs Entreprenad AB see them under motor!
060207
Two new trucks to Moonshine Express see them under truck!
051204
New Mask!
051018
See "Skulls of death" under mc!
050618
New truck "Moonshine Dragon" see it under truck!
050422
Soon the drag racing competition starts. Take a look at "Team M. Hanssons" "Prostock Tiger" under motor!
050215
One new helmet! Peter Axelssons "Uruk-Hai" from the Lord of the Rings.
041128
Moonshine Express new wolf truck!
041018
See Daniel Wälitalos new mask!
040909
Two more trucks to see! One Scania and one Volvo for Åke Enkvist Åkeri AB. Both trucks participated in Nordic Throphy -04 where they took third and fourth prize in the Timber truck Class. See them under trucks!
040725
See Two new helmetdesigns created by Robert Forsgren! First we have a robot helmet "metal skull" to Michael Malmgren FIA Pro-stock Champion. And then a tiger helmet "Prostock tiger" to Magnus Hansson "Team M. Hansson Racing". See them both at VEIDEC FESTIVAL Mantorp park 29th Juli - 1st Augusti. There you also can meet Robert! helmets!
040627
Mask with Lucky Luke motiv under mask!
040522
New helmet! "Torgrim The Viking"
040207
Take a look at Pontus Hedbergs Stormtrooper helmet!
031209
One new mask!
031104
New HD-gastank under mc!
031029
New Scania under motor!
031021
Two new masks!
030922
New paintings under motor and mask!
030813
New things under motor, helmet and mask!
030615
A wheel cover under other!
030506
New helmet under helmets!
030413
3 new masks!
030316
Moonshine Express Scania under motor!
030301
Take a look at Peder "Greven" Johanssons "Blue Dragon" chopper under mc!
030130
New mask!
021230
We proudly precent the Gladiator IZORs helmet, take a look under helmets!
021221
Team Finlands new mask!
021206
New Mask!
021009
Two new helmets and one new bowling ball!
020928
Three new masks!
020921
Umeå Fjärrs new Scania with a hitch-hikeing witch, under motor!
020909
One new helmet and three new masks!
020730
Two new helmets!
020608
New car under motor!
020501
New mc!
020328
Take a look at KG-Johanssons new SCANIA under motor!
020211
Two new masks!
020128
New mask!
020111
New Bandit helmet!
011218
New painting under other!
011120
Black Panter mask!
011021
Painted bowling ball under other!
011019
New mc!
011002
New helmet!
010806
Take a look at the DEATH DEALER helmet!
010719
Two more helmets!
010614
New Bandithelmet!
010605
New Awards for Robert read more under news!

010601
Look at Pliggens new truck!
010528
New pictures under helmets, motor and other!
010521
Two horse paintings!

010517
New mask!

010506
Look at "Death dealer" under mc!

010506
New mask!

010411
Look at Robinson Douglas Harley under "mc"

010404
News Custom Motor Show in Elmia, Jönköping

010330
New helmet!

010314
Look at Umeå Fjärrs trucks under "motor"

010305
New pictures under "mc"

010304
Mc-exhibition 23-25 March, read more under news

010303
New pictures under "motor" and two more under "walls"

010101
hey look at that date....building up the contact and info site

001231
creating the basics of the site.....not much will work.....working on new years eve.....